Enkel installation utomhus PP Basket Modular Sports Flooring
DESIGN DIN DOMSTOL

Vårt produktsortiment omfattar: PP-plattor, Sportgolv, Badminton Court Mat, Bordtennisgolv, Basketballgolv, Volleyboll Sportgolv, Tennisgolv, Inomhus Futsalgolv, Gymrum Golv, Barnrum Golv, Dansgolv, Handbollgolv , Mångsidigt golv. Domstolsplattor (PP Interlocking Flooring) Utomhus Basketplan, Utomhus Tennisbana, Utanför Flera Använd, Vattensmattor, Futsal, PVC Sportsgolv. Våra ytor kan uppfylla alla dina behov. arbeta med oss, genom våra gemensamma insatser, kan det ge bra resultat vi tror.
Det är speciellt utformat för utomhus skridskoapplikationer. Precisionslåsningssystemet och ytprofilen ger en slät monolitisk skridskoyta med det bästa hjulgreppet i branschen. De är konstruerade för att klara de hårdaste väderförhållandena och dess speciellt formade perforeringar gör det möjligt att dränera vatten lätt och ytan torkar snabbt , så din anläggning kan vara igång snabbt, även efter kraftigt regn.

Produktinformation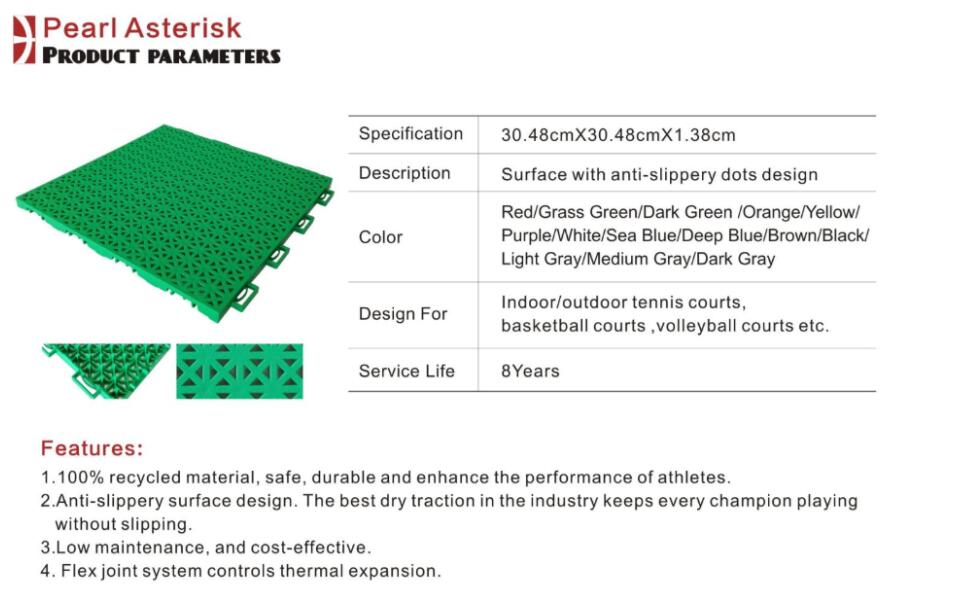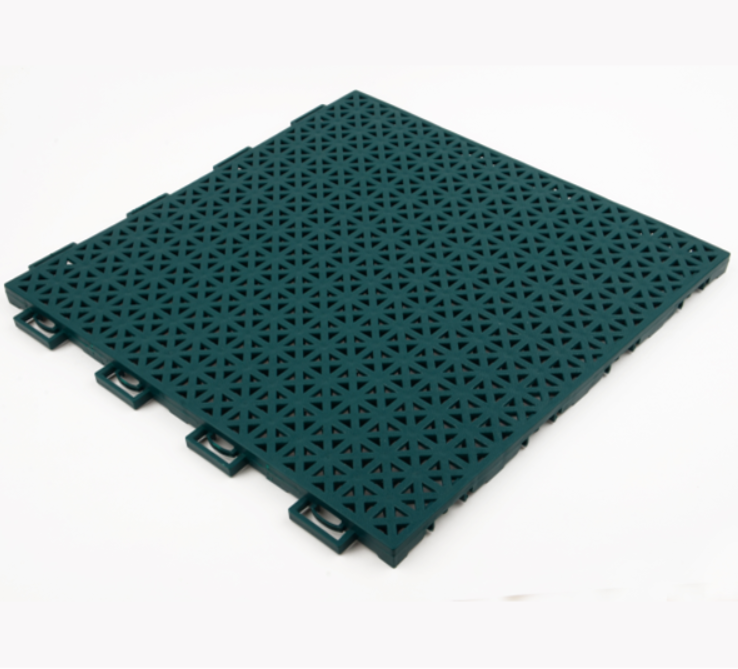 Product Name

Enlio interlocking sports floor-soft connection II

Technology

Injection

sport

for indoor/outdoor (basketball court,futsal court, tennis court,volleyball court

Design

interlock

pattern

triangle ,flat, embossed vein

standard

SGS,CE

sports performance:

ball rebounce rate:95%,slip friction index:0.52

Quality

High quality level, and our quality control department will double check the

goods before shipment .

Service

Best quality and reasonable prices; Fast delivery and excellent after sales service;

Payment

Paypal, L/C,T/T

Comfortable:

No odor,No glare perfect connect between shoes and floor,good shock absorption performance. anti-UV,water-proof,non-toxic

Installation

Easy Installation
Lätt att montera (DIY Installation)
En av de många fördelarna med det här uteslutna golvpaketet är att installationen kan utföras med egna händer. Vi kallar det för ett "gör det själv" sportplanet, eftersom det inte kräver professionell installation eller professionella verktyg. Kakelarna har ett fyra lås-till-spärrspärrsystem, som knyts samman med en enda nedåtgående push som ett pussel. kakel är lika lätt som installationen.
Dessa plattor är konstruerade med högeffektiva polypropenplast, avsedda att vara oflexibla för att skapa en fast, platt och enhetlig spelplan. Detta gör också plattorna stela och tillräckligt starka för att stödja tunga vikter som bilar utan att skada plattorna. ModuTile erbjuder en mängd olika färgkombinationer; så du kan ha Pickleball courten gjort bara för dig!
Relaterade produkter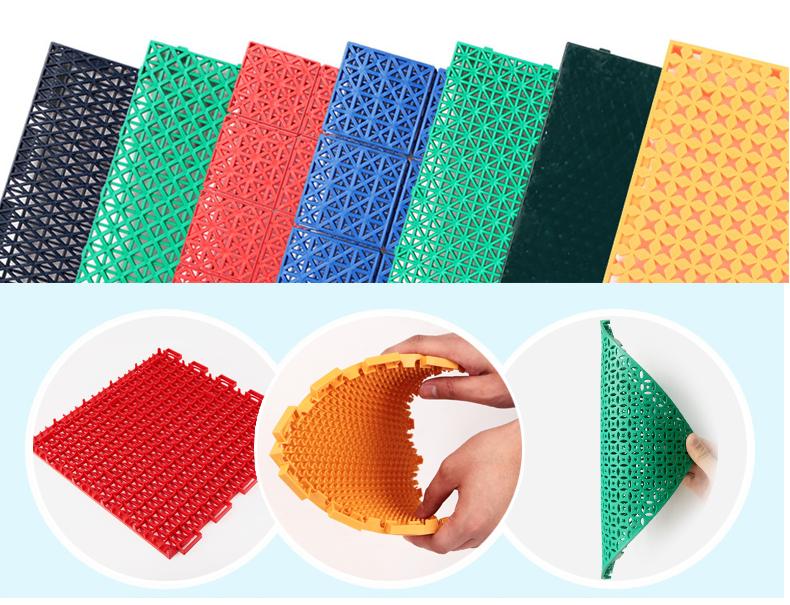 Viktigaste fördelarna

UV-stabilt material

Spårstyrning Perforerad Mönster Yta

Mold Resistant

Färgresistent

Fyra loop-to-peg interlocking system

Pickleball domstol linjer och områden

Lätt att montera (DIY Installation)

Rengör lätt med mild tvål och vatten

Använd en kvast eller shop-vac för att rengöra skräp

Olika storlekar tillgängliga

Olika färger finns tillgängliga

Hårda högimpaktplattor

Mesh (perforerad) Matt finish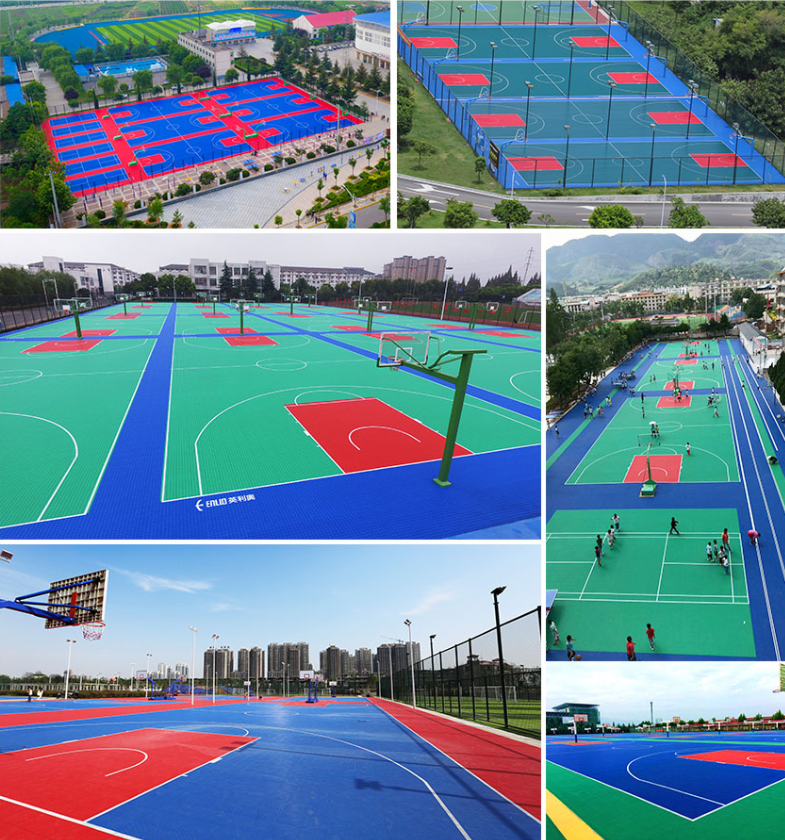 Produktkategorier : PP Domstolsplattor